There is nothing nicer than the flames of a fire in winter, making us feel warmer just by looking at them. But did you know that using Logs as fuel is a cheaper and more eco friendly way to keep warm in winter? It is cheaper than coal gas or electric heating, and is a renewable and sustainable source of heating.
Tips:
Buy wood as dry as possible.

It is very simple really, Dry (seasoned) logs will burn longer and give more heat out, and will therefore work out cheaper.
Buy as early as you can.

Spring if possible, for cheaper 'wet' wood, and let it air dry over summer and Autumn. It is fine to buy later than Spring, just make sure it is seasoned by the time you burn it. Check with your supplier what you are buying, while burning 'wet' wood is still cheaper than other fuels it is much better to burn 'dry'.
Keep the logs in a log store

They will air dry. This is very important, and will make wood fuel even more economical. By storing under cover in a wood store the logs will not reabsorb the water they have lost being seasoned.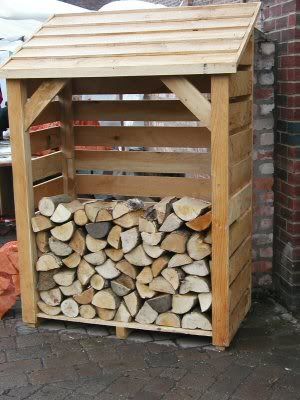 Bring some logs inside

to house dry for a few days prior to burning, try to always have enough 'house dried' logs ready for your fire.
You can burn unseasoned (wet) wood, but it will burn quicker and with less heat, and will leave more sticky soot, meaning you need the chimney cleaned more often. But it looks just as nice, smells just as nice, and is still cheap.

A coal grate is not really suitable for wood, so cover it with a metal base plate for best results. Reduce the area of the lowest part of fire with sloping fire bricks to deepen the ash and charcoal bed but leaving more space for logs above.